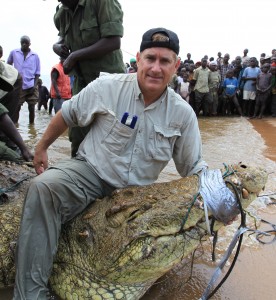 Dr. Brady Barr is a reptile specialist and television personality.
In over 15 years, he's traveled to more than 80 countries for National Geographic Television to host over 100 wildlife documentaries—more than anyone in National Geographic's history.
In the process he's worked with just about every animal imaginable—from crocodiles, alligators, and snakes to bears, sharks, lions, hippos, and more.
Among his many notable achievements, Brady was the first person to ever capture and study all 23 species of crocodilians in the wild.  He's driven by a desire to get to know crocodiles and other species in their natural habitat so that we might best know how to save them in the wild (about a third of all crocodilians are endangered).
The author of multiple children's books about reptiles, Brady is also the star of the educational XBOX game Dangerous Encounters, a collaboration with Microsoft. On the research front, Brady has participated in studies with leading scientists throughout the world including his ongoing research, supported by the National Geographic Society, into conservation of the American crocodile in Costa Rica, and his dietary study of alligators in the Florida Everglades.
Born in Fort Worth, Texas, and raised in Bloomington, Indiana, Brady received a Bachelor of Science in science education from Indiana University in 1987 and launched his teaching career at North Central High School in Indianapolis, teaching subjects like zoology, biology, and earth and life sciences.  With a highly interactive classroom style, Brady encouraged his students to "touch, see, and feel the animals firsthand."  He went on to receive a Master of Science (1994) and a Ph.D. (1997) in Biology from the University of Miami.
Among his many media appearances, Brady has appeared in the FOX Network Special Supercroc and logged multiple appearances on The Tonight Show with Jay Leno, Oprah, The Today Show, The View, and CNN.  He's a frequent contributor to National Geographic Kids Magazine, an ambassador for Nat Geo's Young Explorers Program in Asia, and an Educator/leader at the National Geographic Explorers Club for Kids. His recent speaking engagements include keynote speaker at the National Science Teachers Association, Annual Convention World Congress of Zoologists, Hoosier Association of Science Teachers, and numerous schools, zoos, aquariums, & museums and fundraising events across the country.
Brady is married to Mei Len Sanchez-Barr, a marine biologist and educator who runs eco-educational programs for kids.  They have two children.
Currently a member of the Endangered Species Coalition of the Council of State Governments and the International Crocodilian Specialist Group, Brady also serves as a scientific expert for the International Union for the Conservation of Nature.